Why are female gamers being overlooked in the marketing industry?
It's almost common knowledge that the gaming industry is on the rise. There's no doubt, a plethora of brands have jumped on the opportunity the industry has to offer. Fast-food titans, KFC, are a notable example, and curiously, coffee giants Lavazza have joined the party in recent weeks.
Therefore, this raises a question: if brands know about the potential of gaming, why are they not utilising the female gamer market?
Admittedly, at Kairos Media, we love insight! So uncovering the facts about female gamers was our mission. 
Potentially, the lack of marketing is due the industry not quite understanding their female gamer audience.  However, the attempts to recognise it are rising, especially since the pandemic. As the world went into lockdown, there has been a 22% relative increase in search interest around the term 'gamer girl'. As people stay at home, this topic is becoming more popular, and people are more intrigued to know what it entails to become a 'gamer girl'. 
No! Our research indicates much to the contrary. In fact, in 2020, there has been an explosion in online conversations amongst less traditional gaming communities and female gamers have found their voice online, keener than ever to share their gaming experiences. 
Lady Gaga, Halo… It seems the conversation is growing whether it's those who you'd expect, or those you wouldn't.
Over the past 2 years, we estimate there have been 710,944 mentions online using these hashtags:
#femalegamer, #girlswhogame, #girlswhoplayvideogames, #girlgamer, #femalegamer, #girlgamer, #gamergirl, #gamerchick, #girlgamer, #womengamers, #womeningaming, #girlgamers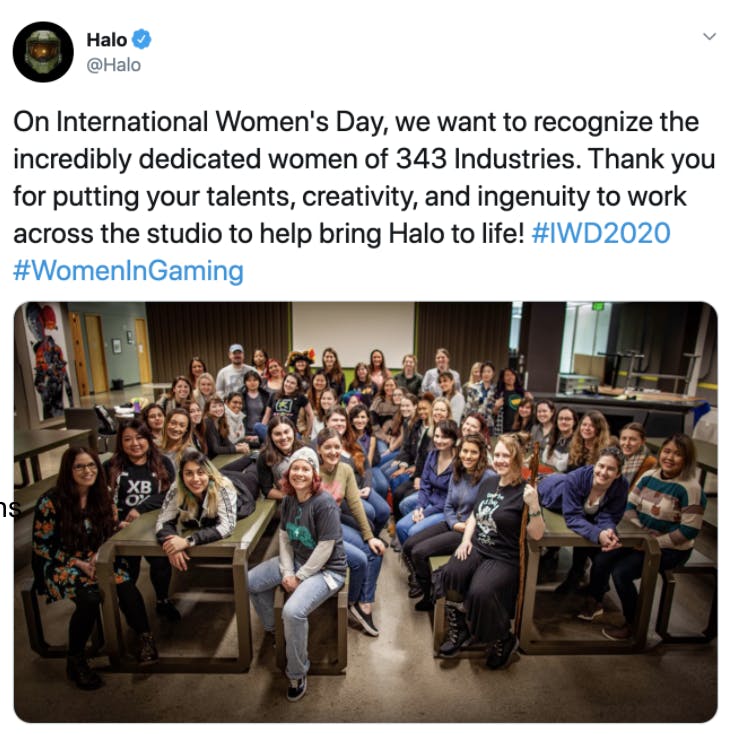 Since the pandemic began, we have seen a 47% increase in the above mentioned hashtags globally. Most impressively, moving from 21k mentions in February to 32k mentions globally at its peak, in July 2020. 
Notably, not only has there been an upturn in mentions but also, support. In terms of growing trends within the gaming world, there is huge amounts of positive sentiment around the hashtags above - the notion around supporting small, female streamers and establishing equality is one met with positivity.
Impressively, big brands have helped bridge the gap between minority and mainstream gamers. Esports league, 'Super Girl Gamer Pro', has been running in the US since 2007. Importantly,  huge international brands such as Nissan, have been supporting this tournament for a number of years with great sentiment.  
Samsung and Vodafone are two notable brands who have supported female gamers. In Brazil, the percentage of female gamers to male is 53.6%, however, there is still a great deal of harassment in the community. Samsung's excellently executed documentary shined a light on the prejudice, inspiring thousands. 
Vodafone España has taken forward its involvement in esports by sponsoring the creation of a new all-female esports team that will compete in Counter Strike: Global Offensive (CS:GO) competitions.
How are female gamers interacting?
Although esports specifically, is still a male dominated interest, the last quarter saw a 22% rise in female interest in esports. 
Interestingly, while mobile gaming is popular across the board, female gamers are more likely to favour mobile platforms than males, which is reflected in the most popular gaming genres for these genders as well. Candy Crush is by far and away the most popular game amongst females globally. 
However, it may be surprising to some that the female demographic hold 37% of the total gaming market. In Q3 2020, the highest proportion of females interested in gaming was coming from Latin America, however Europe was the 2nd highest region. 
Other estimates from Newzoo, suggest female gamers have risen up to 47% of the market, slowly growing over time… Estimating the global market of gamers, also from Newzoo, there are 2.31bn gamers, which means there are potentially over 1bn female gamers in total.
Surely, a more aggressive marketing campaign tapping specifically into this market is incoming?