How TikTok has overtaken YouTube
TikTok has overtaken YouTube in average watch time in the US and UK
Global phenomenon social media app TikTok continues to surge in popularity, becoming a disrupter in the streaming and social media landscape. 
It now surpasses YouTube across the US and UK for average watch time spent on the app each month whilst bolstering higher levels of engagement through its short form content, according to app analytics firm App Annie. 
It is easy to see why TikTok is so highly prized amongst users and brands alike. Three-quarters of all apps are downloaded, accessed once, and then entirely forgotten about. However, you can be sure TikTok falls into the remaining ¼  with 90% of all TikTok users accessing the app on a daily basis and opening the app 8 times a day on average. TikTok has an incredible 689 million users on the platform to date and over 40 million downloads since November 2020 - with no signs of stopping. 
So, it comes as no surprise that we are seeing marketing budgets rise as brands try to unlock this new global marketing phenomenon which has developed beyond its audience roots in Gen Z now also reaching a significant number of millennials and a cohort of Gen X audiences. 
TikTok vs Youtube media consumption
Following a report from app analytics firm App Annie, data shows TikTok users are now spending more time each month consuming content compared to YouTube.
However, it is important to note this isn't the first time this has happened. In the US, ByteDance, app developers of TikTok, first surpassed YouTube in monthly average watch time in August last year, and again as of June 2021. The data suggests TikTok users in the US are now watching over 24 hours of content per month, in comparison to YouTube users who average 22 hours and 40 minutes on YouTube.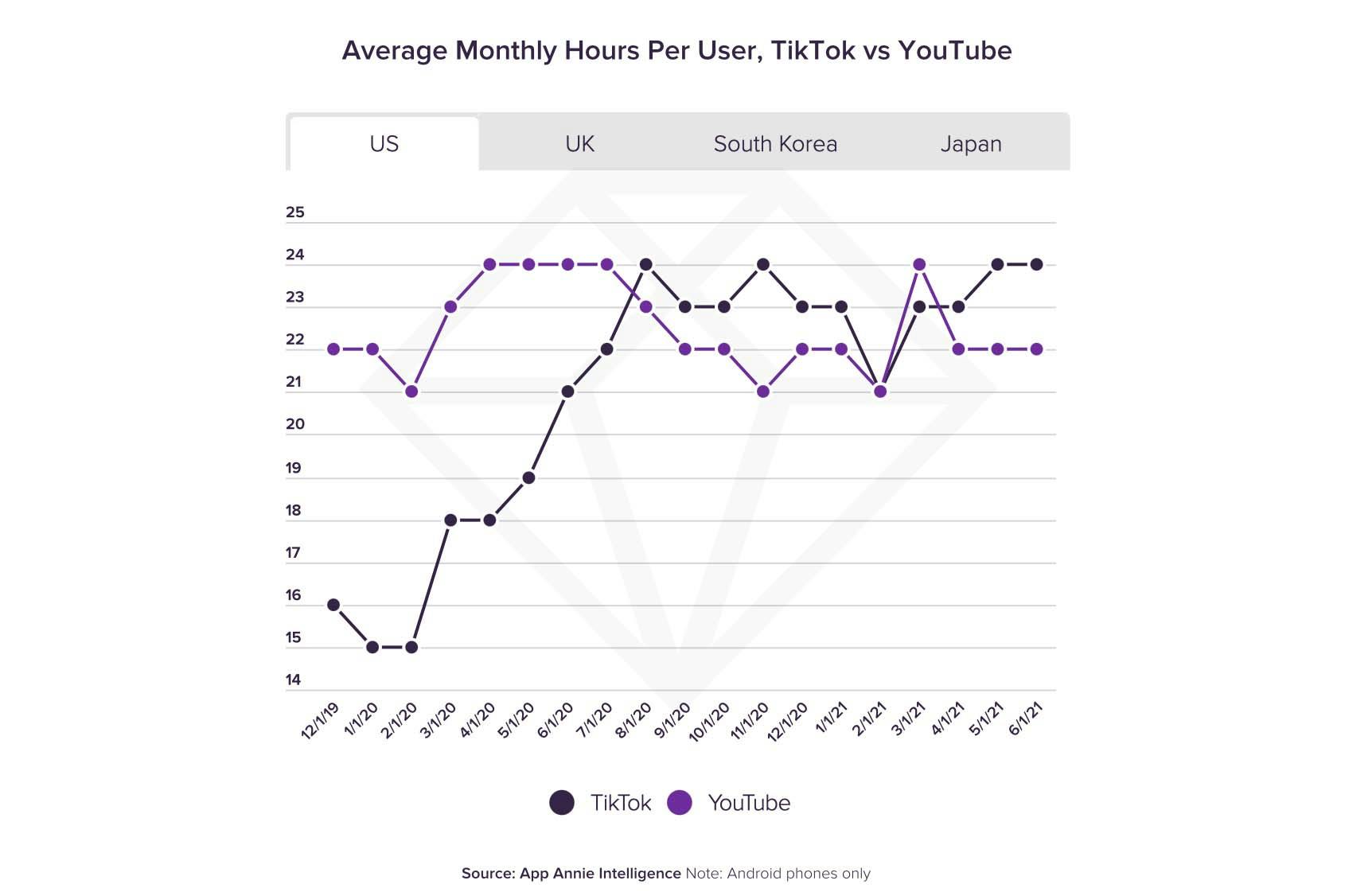 In comparison, the data in the UK shows a significant gap between the two social media apps. In May 2020, TikTok overtook YouTube in user's average watch time and they are reportedly watching an average of 26 hours of content per month. This is a significantly higher amount compared to users on YouTube who reportedly spend less than 16 hours per month on YouTube.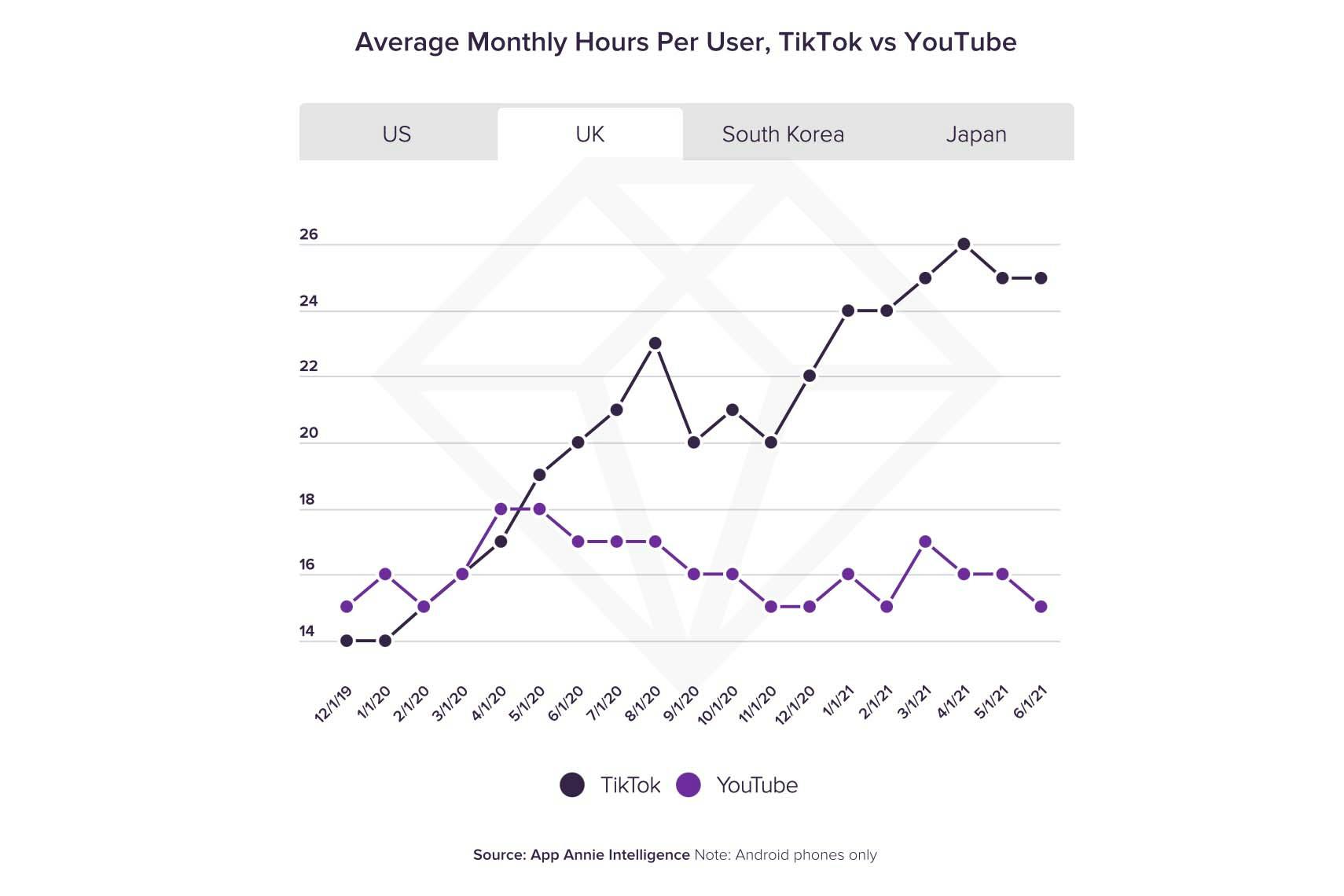 While at initial glance this data showcases TikTok's meteoric rise since the apps launch in 2019, it is important to note the stats stated above are limited to only include viewership figures on Android phones. This therefore is not an accurate representation of all mobile users as a whole. 
Nonetheless, it is very impressive given TikTok videos on the platform average a maximum of three minutes, compared to YouTube's preferred 10 minute and longer form content format. The app also faced challenges throughout 2020, with threats that the Chinese-owned app would be banned in the US during negotiations between the two nations. However, it has since been revoked by Biden's administration earlier this year. 
We spoke with Mathew Moody, TikTok social media manager at Kairos Group for his thoughts;
"Whilst I think at first the news might seem surprising, it generally falls back to the key feature that's been highlighted in TikTok's success from the beginning; you just need to swipe up. Although YouTube is a goliath and is superior in other ways, it still requires a level of browsing, and with each second someone is looking for a video, there's a chance they'll give up and put their phone down. 
TikTok on the other hand is so much more convenient, and serves a seemingly never-ending stream of algorithm tailored content the second the app opens. So overall, it's much harder to find a lull in which to break out of the cycle.
I think TikTok is far beyond being seen as a 'passing trend' at this point. They've proven that they've got what it takes and consistently show these other platforms that they're not only here to stay, but they're controlling the conversation while they're at it. Instagram Reels and Facebook Watch are prime examples."
YouTube still rules the nest
While there is no question TikTok will continue to be a disrupter across streaming and social media platforms, this latest report, which excludes iOS users and users on the app Douyin (the Chinese version of TikTok), show YouTube is still leading the way in terms of overall time spent on android phones. It also comes in first amongst "Social and Entertaining Apps" whilst TikTok currently sits in fifth place behind three Facebook owned apps (Facebook, WhatsApp and Instagram). This is unsurprising given the Google-owned platform bolsters roughly 2 billion users compared to TikTok's 689 million users.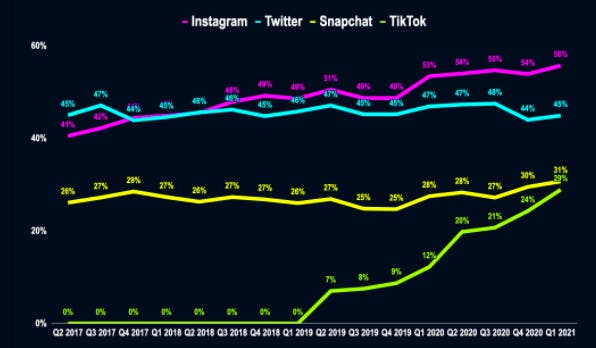 Furthermore, according to App Annie's data, users on YouTube also spend more money across the platform, compared to TikTok across both iOS and Android devices worldwide (excluding Android users in China) 
We asked with Jorge Rosell, paid social lead at Kairos Group for his thoughts;
"I think it will take some time for TikTok to overtake YouTube in terms of time spent on the platform. The nature of YouTube is to generate long-form content videos and that content format will keep users spending more time looking at the screen. 
The growth of TikTok can't go unnoticed though, 40% of TikTok users aren't on any other platform which clearly shows that they are a different breed where video content is the only way to go and they definitely interact with more influencers as the platform's recommendation engine keeps things very fresh and in constant change. 
The new additions of TikTok on the e-commerce side is only going to boost the monetisation using DPA and Gift cards, especially in the initial months as the competitiveness of the marketplace is way cheaper vs. YouTube and other well established apps like Facebook and Instagram." 
Key takeaway 
It is interesting to see how long TikTok can maintain their momentum and it is certainly an exciting time for both users and brands to reach new audiences. It's a platform I think will continue to mature through its innovations moving forward. 
TikTok is considered by many as the successor to popular social media platform Vine, which could be argued was ahead of its time with its short-video, authentic content and live streaming. Due it it's success it is not surprising to see other platforms attempting to take advantage of TikTok's popularity by introducing their own short-form video formats with the likes of YouTube Shorts, IG stories and more. 
Image Source:
Average Monthly Hours per Users - US
Average Monthly Hours per Users - UK