The Kairos Lowdown: Gaming and esports 17/01/2022 - 23/01/2022
Already feeling the benefits of adding Kairos Lowdown to your weekly data & insights routine? We definitely think it's up there as a highlight of the working week. 
If you're new here, we cover news stories from across the gaming and esports landscape, so read on to find out more about recent announcements, from partnerships and finance to mergers and acquisitions. 
Top Stories: 
Microsoft plans $68.7billion acquisition of Activision Blizzard.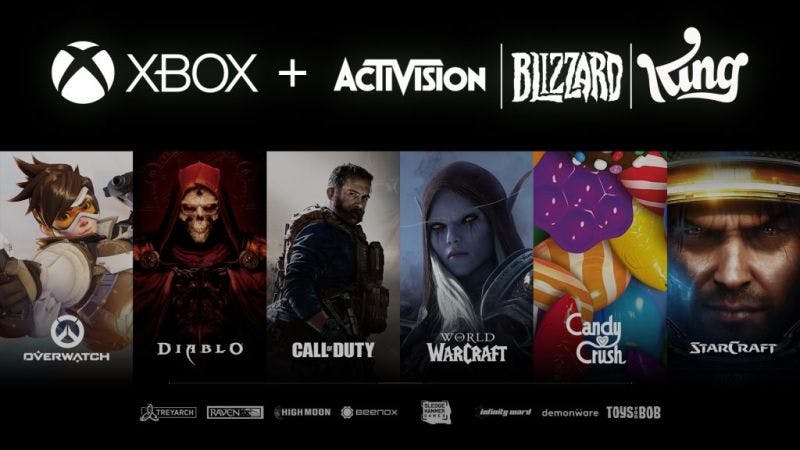 Well it certainly came  as a surprise last week when Microsoft announced their intention to acquire Activision Blizzard, which is valued at $68.7 Billion. However, it is important to note that a takeover of this size won't happen overnight and is subject to approval. 
If successful, the impact this will have on the gaming and esport industry will be enormous given that Activision Blizzard owns some of the most iconic franchises within the gaming ecosystem, including Warcraft, Diablo, Overwatch, Call of Duty and Candy Crush,' as well as a global esports portfolio. 
If the deal is finalised it will mark the largest acquisition in gaming history in terms of revenue, which will leapfrog Microsoft as the world's third-largest gaming company by revenue, behind Sony and Tencent, with the latter owning a 5% stake in Activision Blizzard. 
The news did come as an industry surprise, with many sitting on the fence given the struggles Activision have faced in 2021, as some  people praised the acquisition news, whilst others fear we are seeing the gaming and esport industry monopolised.

Overall the timing of the news is interesting. We've seen recently that Xbox (Microsoft owned) have shifted their strategy and diversified into more service offerings. Yes console unit sales are important, but long-term subscription service (annual recurring revenues) is beginning to dominate. Following the acquisition news, Microsoft also announced their Xbox Game Pass has crossed 25 million subscribers - that's a lot of ARR. 
Yes, $68.7 billion is a hefty price to pay, but what intrigues me most is how will Xbox leverage this acquisition if successful long term? Could it be a trojan horse to get Game Pass on rival console PlayStation in the future? Activision Blizzard IP is one hell of a dangling carrot.
At the same time, Xbox Game Pass Ultimate (Xbox's highest tier) provides their subscribers perks like trials for YouTube Premium, Disney Plus and Spotify Premium, as well as in game items and cosmetics. Which raises the question: Could this be Microsoft's entrance into the metaverse and NFTs? 
Time will tell, however with Sony continuing to acquire game studios left, right and centre,I wouldn't be surprised if PlayStation started reviving some of their dormant IP's like Killzone, or if they started looking to secure deals with major publishers to maintain their market share. 
FNATIC x L'Oreal Men Expert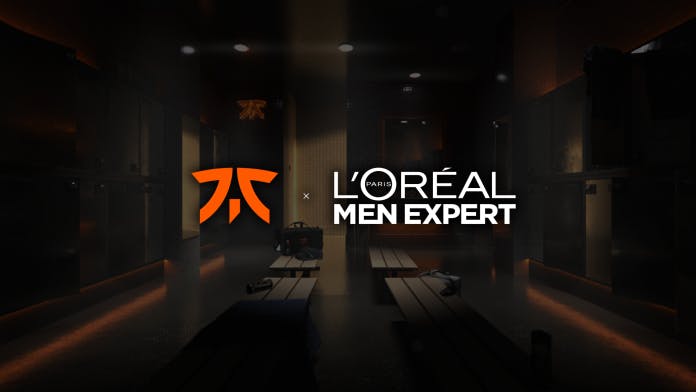 UK-based esports organisation, Fnatic, has announced a new partnership with beauty and personal care brand, L'Oréal Men Expert. However, the financial details of the deal have not been disclosed. 
As part of the announcement, Fnatic and L'Oréal Men Expert will collaborate on a range of content and productive activation focused around the newly created #PrepToPlay tagline, which is an initiative that focuses on levelling up a player's performance in-game 'by preparing out of it'. The collaboration will also see L'Oréal Men Expert's logo featured on the back of Fnatic's team jerseys for this upcoming season.
In addition to the two brands collaborating on a range of co-branded content activation, L'Oréal Men Expert will also sponsor online web series 'The Rhobalas Show', which will include League of Legends content creator, Valentin 'Rhobalas' Ancelin. 
The partnership will also see L'Oréal Men Expert's Hydra Energetic and Carbon Protect product ranges made available for Fnatic's players, coaching staff and talent and will include the personal care brand integrated into the Fnatic's pregame social media content. 
Fnatic have certainly hit the ground running after an impressive 2021 which saw the firm grow their commercial portfolio, with partnerships with the likes of Crypto.com, Monster Energy and ASOS. It certainly is an exciting partnership as L'Oréal expands their presence in the gaming and esports scene. Given that the brand is reportedly Fnatic's sole back of shirt sponsor, it is one to keep an eye on to see how the audience reacts to future activations going forward, especially after a hugely successful year where we've seen esports organisations creating engaging sponsored content. 
Nike 'Nikeland' metaverse visits NYC Store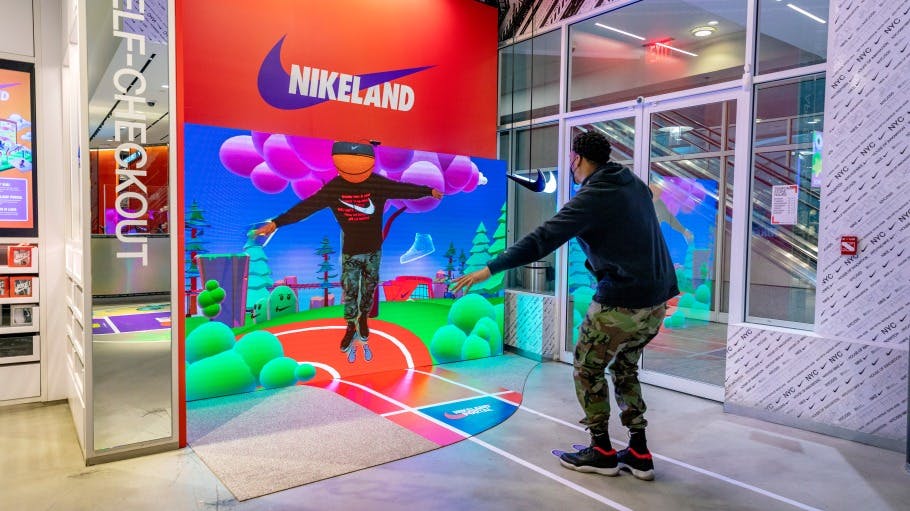 At the backend of November we covered Nike's launch into the metaverse with the reveal of NIKELAND (here). 
Nike launched their metaverse strategy when they partnered with popular game publisher, Roblox, to create the NIKELAND virtual world and it now seems the company is bringing the virtual experience to their NYC store on Fifth Avenue.
The store in question has been transformed into an augmented reality version of Nikeland, which features visual elements decked out in the NIKELAND theme, while AR features through Snapchat Lenses offer avatars and games for people to interact with. The activation runs until  the end of January and aims to inspire people to move around and keep active. 
The store has been set up as a base hub where visitors can see themselves in the Nikeland Roblox virtual world through a large display, with an onsite camera set up to scan bodies. The system changes the heads on the avatars into balls from different sports and can include up to four people at once, with a variety of options including a Roblox basketball, a grass soccer ball, a Nike headband basketball and a fuzzy blue tennis ball with black NSW lockup.
It certainly is a fun and interesting activation. Overall I'm a big fan and after initially entering the metaverse to reach new audiences, I think Nike have been able to achieve that and highlight the NIKELAND metaverse through crafting a virtual experience, based on its branding and headquarters in the real world, as well as channeling this metaverse back into a physical location in a full 360 experience. I for one will be keeping a close eye on more activations from Nike in the coming weeks.
Partnerships Lowdown 
ESLAND awards peak over 1M viewers 
ESLAND award ceremony was hosted last week in Barcelona, with the red carpet event highlighting the best Spanish-speaking streamers throughout 2021, which was organised by David 'TheGrefg' Cánovas Martínez. 
The yearly award show was broadcasted exclusively on TheGrefg channel, which was broadcasted over a six hour period, however it is impressive that during that time the stream reached 1.9 million unique viewers. The average viewership (CCV) of the event was over 634k, with peak viewership over 1.069 million spectators at the time of ceremonies. In total the event amassed 3.69 million hours watched, with TheGrefg gaining over 65k new followers during the broadcast. It certainly is an impressive event and showcases the growth of Spanish-speaking creators on social media. It will be interesting to see how brands react to these awards to target new markets. 
Finance, Mergers and Acquisitions lowdown
Dream Games raise $255M in Series C valued at $2.75 B
The developers behind the hit game Royal Match, Istanbul's gaming startup Dream Games, have raised $255 million Series C in their latest funding round, which now values the startup developer at $2.75 billion.
The latest round of funding was led by Index Ventures, with Makers Fund, IVP, funds and accounts managed by BlackRock, Kora and Balderton Capital also participating. As part of the announcement, Dream Games commented that the latest round of funding will be used both to continue investing in and developing Royal Match alongside working on its studio's next launch, which is expected to be announced later this year. 
Image Source: